//
UIM ENDURANCE CIRCUIT: ABU DHABI TEAM IS WORLD CHAMPION 2019!
UIM ENDURANCE CIRCUIT: ABU DHABI TEAM IS WORLD CHAMPION 2019!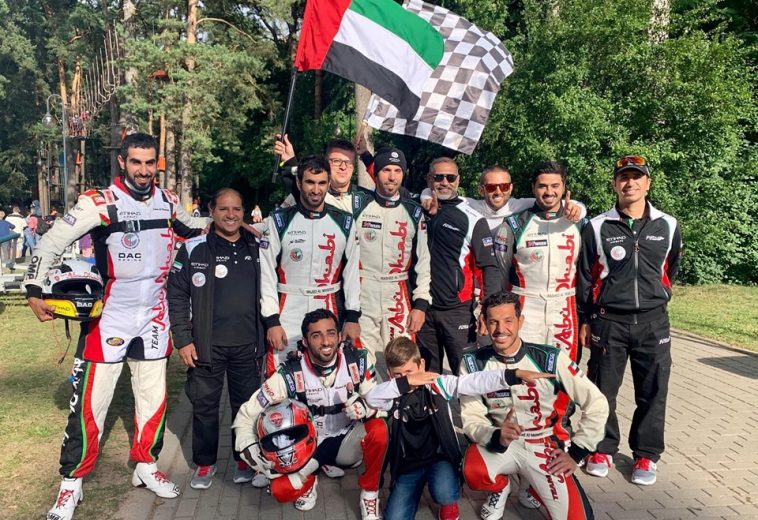 Team Abu Dhabi conquered their first World powerboat racing title of the season today : Shaun Torrente, Rashed Al Qemzi, Rashed Al Tayer and Italian Tullio Abbate clinched the World Endurance Championships in Augustów, Poland, after a thrilling-race..
This time the honours of the day went to the all-Emirati crew of Majed Al Mansoori, Mohamed Al Mehairbi, Rashed Al Remeithi and Faleh Al Mansoori in Abu Dhabi 36 who recorded a commanding victory in the second of two back-to-back six-hour races to finish runners up in the series.
But fourth place was enough to ensure American Torrente, Emiratis Al Qemzi and Al Tayer and Italian Tullio in Abu Dhabi 35 secured the world endurance crown following their win 24 hours earlier and success two months ago in the 24 Hours of Rouen in France. They had looked set to complete the series with a 100% winning record after leading comfortably for more than four hours today before being briefly forced out of the race to make technical modifications.
Abu Dhabi 36, who were in second place, suddenly found themselves with a commanding lead and ultimately cruised to victory by 9 laps from the Navikart French crew of Sebastien Lemoine, and Nollet 2 third another five laps behind.
The Team manager Cappellini said: "A very good race and finally the World Endurace crown came to Abu Dhabi Team! I would like to dedicated this World Title to Sheick Sultan Bin Khalifa Zayed Al Nahyan and his son HH Sheick Mohammed Bin Sultan Bin Khalifa Al Nahyan, and to our General manager, Salem Al Remaithi. I would like to also dedicate it to my friend Tullio Abbate Senior, who turned 75 today and can see his son became World Champion! But I overall thanks all the team members, drivers and technicians, for their unbelieveble dedication and professional attitude, which allows our successes!"