Interview
Interview
Guido Cappellini 10 x F1 WorldChampion
talks to Frode Sundsdal at the #TheRaceFactory.
NEWS
News
Latest NEWS
You can here find all the updates news on Abu Dhabi Team results and all the news about Guido.
Guido Cappellini
Guido Cappellini - Campione F1H2O
Welcome to my website and thank you for visiting it!
My goal, in addition to telling my career, is to ensure that this site can celebrate and promote the sport of powerboating, in particular the UIM F1 Inshore, which was once the world as a pilot and is still today as team manager of the Abu Dhabi Team, participating in the F1 and F2 World Championships.
By clicking under the shark (the logo that characterized my hull), you can find everything I did: I hope my story can be a source of inspiration for young drivers who are approaching our fantastic sport!
I have many people to thank, especially my team and my family, those who have always known me, for everything that has happened so far, with ten world championships won as a driver and those we are winning as Abu Dhabi Team. I also have to thank my sponsors and all the people who have contributed: you can find them in the "What they say about Guido" section.
I also have to thank the competitors I've met during my career – many of whom, like Fabrizio Bocca, Michael Werner, Jonathan Jones and others, are great friends – because they pushed me to raise my game and made me improve more and more.
I hope you'll enjoy reading my story, seeing pictures and videos from a lifetime and following the news about the Abu Dhabi team, which you'll find updated day by day.
Thank you all!
Guido Cappellini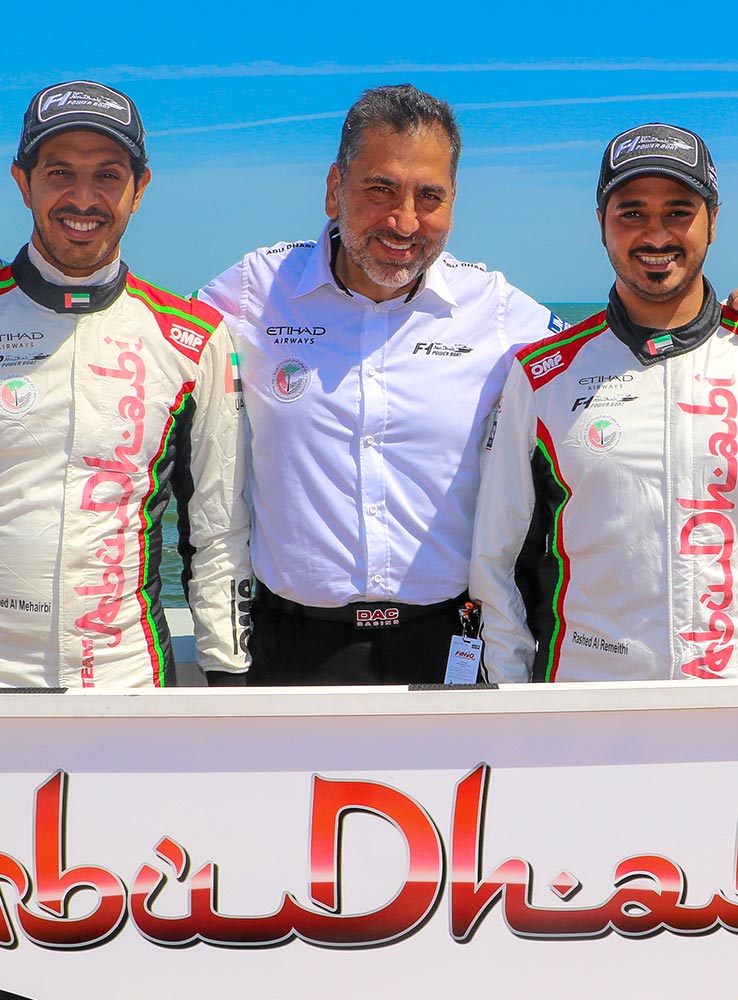 Guido Cappellini - Team Principal Abu Dhabi Team
ABU DHABI Team
Since 2015, Guido Cappellini  is the Team Principal of the Abu Dhabi  Powerboat Team, which  partecipates  of UIM F1, F2 and F4  Powerboat World Championship and also to the UIM World Endurance Circuit.
The Team is part of the Abu Dhabi International Marine Sport Club, established in 1993: International Marine Sport Club  is a high level organisation, which creates  water sport events in its spectacular location, between Breakwater and the Corniche. At the beginning, it hosted a round of the UIM F1 H2O World Championship, the world's most spectacular water sport series. Then, a series of  sports activities was developed, and  were put up the teams  which  are today   at the top of the World F1 Inshore and Offshore championships.
Testimonials
Testimonials
What they say about him
The voices of who know Guido very well: sponsors, teammates, friends, journalists, federal managers, opponents, promoters, boat lovers, photographes….
Get in Touch