//
UIM F2: Rashed al Qemzi (Abu Dhabi Team), wins the Lithuania Grand Prix
UIM F2: Rashed al Qemzi (Abu Dhabi Team), wins the Lithuania Grand Prix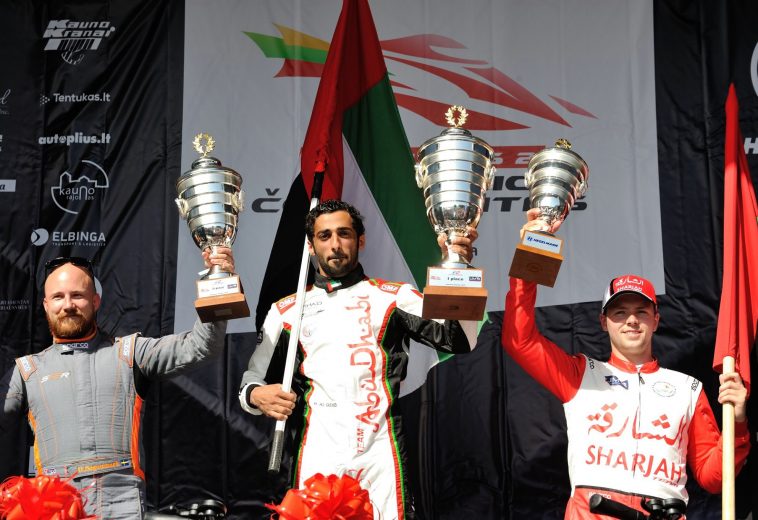 Rashed Al Qemzi won the Lithuania Grand Prix , first race of the UIM F 2 worldchampionship, after a thrilling race in Kaunas.
As the start lights went out, al Qemzi's Optimax 200 Engine developed a stutter, which allowed both Stefan Hagin and Tobias Munthe-Kaas to take full advantage of the Emirates plight.
Rashed found himself, who had got the pole, in third place which remainde until lap twenty-seven and the first of the afternoon yellow flag periods.
When racing got back under way, it wasn't long before those yellow flags werw needed again. As Hagin was leading the charge down to the pit turn, his prop shaft decided to part company with his propleller, leaving the poor German stranded on the turn mark. In the ensuing mayhen Rashed al Tayer was hit from behind, bringing his weekend racing activities to a premature halt.
With barely ten laps remaining the field was being led around the course by Munthe-Kaas who looked almost certain to take his maiden F2 victory. Moments later the chequered flag was out and as his mechanics rushed to congratulate the Norwegian driver it emerged from Race Control that he had been adjudged to have dislodged one of those turn marks, so promoting Al Qemzi to the top step of the podium.
With the remaining drivers now being promoted a place, it meant that Daniel Segenmark was now in second and Ferdinand Zandbergen from the Sharjah Team was third.
Surprise was also on the face of Al Qemzi who after his engine failed to start properly thought his chance of victory had also gone. "When the lights went out my engine just coughed" said the Team Abu Dhabi driver. "I know how hard it is to catch and overtake in F2, so I just concentrated on getting to the podium and now I'm on the top step."
The UIM F2 World Championship now takes a short break to allow the competitors a chance to secure the UIM F2 European crown which is being contested back in Lithuania on 20 and 21 of July in Zarasai. From there the World Championship heads back to Norway for Round Two being staged in Tonsberg in early August.